Biographical Sketch
I was born and raised in Western Massachusetts, spending my formative years drawing and painting the surrounding farms and nature. After graduating from Paier College of Art I spent many years in Illustration, Graphic Design and Art Direction, in the Boston, Massachusetts area. Along with raising three creative young men, painting continues to be my constant vocation, as well as landscape design and painting murals. My current works are a microcosm of my life's experiences; incorporating my love of nature and gardens, metaphysics and symbolism, with relationship to healing art therapy.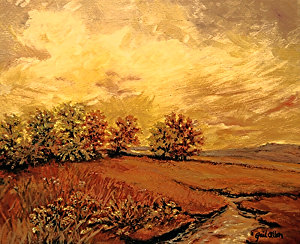 Statement
My paintings are created after sketching, writing and looking carefully as I take reference photos - letting the memories and feelings I hold about nature and the location of place take hold. They often end up being distinctly different in appearance than the actual place, which I had originally observed. I am not trying to copy a specific site or view, but to capture that elusive feeling; the sounds and smells, atmosphere and feelings evoked when I came to that scene, that inspired me to stop there in the first place.
I am trying to create images that are dealing with the science of things transcending what is known to be physical and natural, primarily themes of the metaphysical plane; those of being, of knowing, substance, identity, time and space. The evolution of my work has gone from everyday images of landscapes that I saw these themes in, to a more intricate language of symbols as I continue my exploration into the psychological effects of an scene on the viewer. More about my process and thoughts on my work may be found at my blog site: Easel Tides .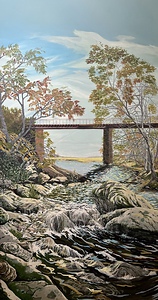 If you like my work, I would appreciate it if you would please take the time to sign up for my email newsletter, just click the following link to sign up for current updates to my new work.
Alternatively, if you already have Google Reader you may subscribe to the RSS Feed on the Works Page.
Gail M. Allen Fine Art Email Newsletter Signup
My recent work has been shown in many group gallery exhibitions, including Milford Antique and Art Center, as well as online
exhibitions such as Saatchi Gallery and The Artist Challenge.
Thank you for visiting, please come again!